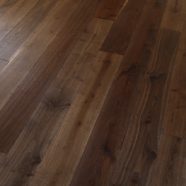 BoardHouse uses a host of different finishing techniques to create the colors offered in their collections. Mike Dutko, one of BoardHouse's founders, has been finishing wood for over 20 years. In the last six or seven years Mike has spent his time working on and developing color using mineral reactive finishes. Mineral reactive finishes have been used for centuries in one form or another, but only as of late are they being used to create very artistic creative color profiles for flooring.
This process is incredibly difficult to master.  Creating a beautiful unique color using clear mineral finishes that interact with the tannins present in European Oak is a tasking process and is reserved only for the creative and the patient. No amount of technology can assist in development of a piece and time is the only test of nature.
Reactive finishes create a unique artistic canvas that can't be achieved with traditional stains.  Stains can be applied by most anyone, but BoardHouse's finishes are complex and unique. All clients should know thought, reactive finishing is not an exact science; it is an art.  Color is subjective. Our floors can vary board-to-board and lot-to-lot depending on the lot of wood being finished or the tannin content and density of each board.  Variation is to be expected; it is the beauty of BoardHouse's artistic finishes.
Look at the provided photos of a job of ours in the Santa Lucia Preserve in Carmel, CA. You can see in theses photos how the color of this floor, albeit varying dramatically, creates a far more elegant floor than a traditional stain would.  For many clients reactive finishes are a learning process, but becoming comfortable with the art is inevitable.  Our floors are beautiful… simple as that.