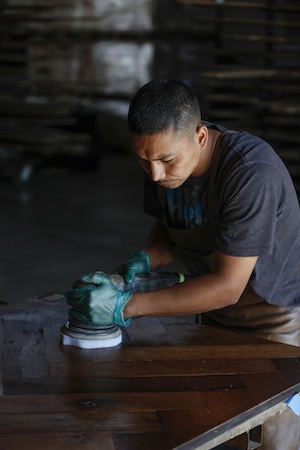 At BoardHouse, customization is limitless. We can alter a sample you found in one of our galleries or create a tailored new one based on your imagination. BH will partner with you and your team to design a wood floor specifically created to achieve the aesthetic and performance criteria you desire.
Before starting the customization process, you'll sit down with a member of the BH team to discuss your needs and find the right solution. All of our products are customizable, and the ideas are limitless. Yet, with anything that requires extra skill, care and time, comes extra cost.
If you'd like to order a custom sample, either one that is not found in our BH collections, or alter one from our existing BH collections, a sample cost will apply.  This will be quoted as needed. Each sample cost is non refundable, yet applied towards the order.
A custom sample, depending on the species and availability, will take 3-4 weeks to produce. It may take longer if there is an element that has a longer lead time.
Email us about custom options for your project

Customizable features (exceptions will apply):

Thickness: ¾", ⅝", ½" solid or engineered.
Width:  4"-12" random or fixed widths.
Lengths: 3'-14'- just tell us what you want. We can do fixed lengths as well.
Color: We can adjust our existing colors or start in a new direction.
Texture: We can wire brush, hand scrape, tumble (age), or leave it smooth. We can alter the edge and end detail of the boards.
(The manor collection is defined by its texture and cannot be altered.)
Sheen: Ultramatte, Matte, Satin, Semi gloss, or Gloss.
Finish:  Hardwax oil, oil, Glitsa or Polyurethane.