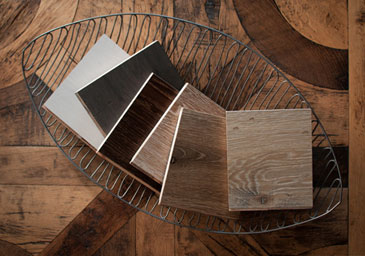 At BoardHouse we pride ourselves in our ability to assist our clients in the selection of the perfect floor. Our chip program allows for designers, architects, and homeowners to explore the possibilities of our collections and get familiar with the look and feel of our wood and finishes.
It is important to keep in mind that many of our uniquely colored floors are complex in nature and no one color chip can be representative of the color variations that will be present in your floor once it is installed.
If you see a sample in the wood galleries that may work for your project, please click the bag icon and add it to your chip bag. BoardHouse will ship up to 3 chips free of charge, after which the sample chips are $5.00 each. Note that some of our galleries may contain floors that are not part of our sample chip program. If you want more information on these floors or would like to inquire about larger samples of any floor, please call BoardHouse or one of our regional partners directly.
A BoardHouse representative will contact you directly to discuss your project prior to sending out your sample chip.
There are no samples in your bag.